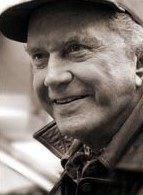 Cliff has been active in a number of charitable efforts, worldwide. When Nigeria was torn apart by a civil war in 1969, the people of Biafra were caught in the conflict. Moved by their plight, Cliff flew medical supplies to where they were needed most.
In 1978, Ethiopia suffered a devastating famine. Cliff again flew supplies to alleviate this crisis.
Robertson has earned many prestigious awards for his energetic advocacy of general aviation including the Experimental Aircraft Association (EAA) Freedom of Flight Award, the Soaring Society of America Award, and the AOPA William Sharples Award for Rescue Flying in Africa. He served as inaugural chairman of the EAA Young Eagles program and continues to work tirelessly for programs that introduce youth to the joy of flight and encourages them to earn their pilot certificates.
Although he maintains a busy schedule of after-dinner speaking engagements between his other activities, Cliff has devoted much time to over fifty national charities including The United Way, the Juvenile Diabetes Foundation, and the American Red Cross.
Immensely proud of his Scottish ancestry, Robertson has been the recipient of numerous awards for his commitment to promoting Scots culture, including the William Wallace Award and the Odom (GA) Genealogical Library's Heritage Award.
Comments & Responses