Hello All,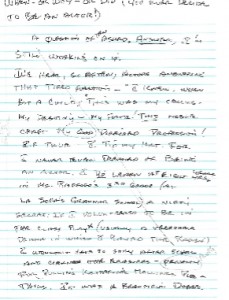 I just wanted to say thank you for the awesome compliments on reading the Joan Crawford chapter.  After a few weeks of completing some personal affairs, I have spent the last two weeks diving head first into organizing Cliff's manuscript and personal notes.  Its taking some time – Also, I think I may have some of the only documents and handwritten items that can't be lost.  (Im an archivist and history nerd, so I care about these things probably more than I should).  This last weekend I found myself swarmed by La Jolla circa 1939 and a new friend sharing their story from a time and place that no longer exists today.
Anyway, the backups of all his writings are complete and now we begin the tedious transfer process from handwritten documents to editable computer formats.  I have a hefty 700 page computer manuscript that Im trying to review and clean up any mis-interpreted computer glitches.  We look forward to your comments and let us know wh
at you want to see.
I'll also be posting some new photos and arranging the website and facebook site for upcoming additions.  Please, send your questions, requests and I'll see what I can do!
Cheers,Thanks for the support and interest!
Adam